Get ready to sip under the stars at Above Ash Social, a stylish space to enjoy hand-crafted cocktails fireside while watching the sun set over San Diego Bay each night.
Located in the vibrant Little Italy neighborhood atop Carte Hotel, Above Ash Social offers a menu of curated handcrafted cocktails, wine and craft beer lists amoungst shareable dishes. Stop by on the weekend to enjoy Sunday brunch and sip on mimosas.
Located on the Rooftop of Carte Hotel
The rooftop social area is inspired by the sunsets and transition to night along the San Diego coast. In the covered roof area, the copper roof represents sunset, surrounded by the bay and ocean inspired glass walls. On both sides of the covered spaces, there is open air seating inspired by nights out along the beach, with sand colored tile, wood furniture and numerous fire features. From the west facing spaces, a view of the bay and sunsets over the bay with the Point Loma Mountains can be viewed each evening.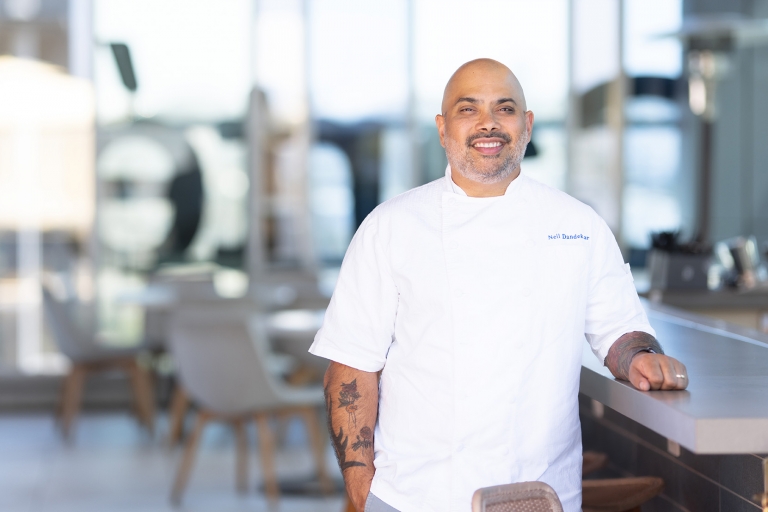 A graduate of the California Culinary Academy,
Chef Neil's love for food can be attributed to watching his father cook in their family home. After graduating Chef Neil began working in some of the best restaurants and resorts throughout Los Angeles, Orange, Riverside, and San Diego Counties, including being part of the opening team at The Resort at Pelican Hill and joining the team at The Fairmont Grand Del Mar when moving to San Diego. Known for cooking within the seasons, Chef Neil has tremendous respect for ingredients and how they can be showcased simply and at their truest potential.